Lohmann: Impetus for innovation at LOPEC
Today, where "printed electronics" are concerned, LOPEC is the go-to leading international fair and conference, comprising of all of this technology's sectors.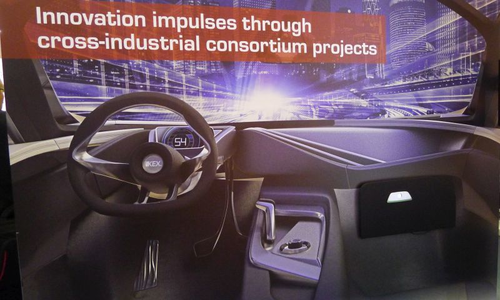 In March, LOPEC took place in Munich with about 160 international companies. They used the opportunity to present a full range of products and solutions for organic and printed electronics, from research to market launch. For Lohman's Bonding Engineers, too, printed electronics is a promising market which offers innovative product possibilities. Consumer goods & electronics, transportation, medical, intelligent textiles and packaging are the main focuses of printed electronics – areas in which Lohmann has decades of experience.
Lohmann's experts from Consumer Goods & Electronics and Application Engineering presented themselves at a joint booth with KEX Knowledge Exchange AG, a professional information service provider specializing in technology and marketing information. In this consortium project "Printed Electronics" Lohmann, in a joint effort with a renowned automobile manufacturer and the manufacturer of special foils Louisenthal GmbH, led by KEX AG, developed a prototype of an innovative heating concept for electric cars. Lohmann is involved with an electroconductive high-tech adhesive tape which is not only able to join different substrates but offers functional characteristics, too. This specific solution is in line with the Bonding Engineers' aspiration to offer intelligent, customized bonding solutions from A to Z. Frederik Klöckner, KEX Technology Manager says: "I´m always impressed to see which innovative solutions our cross-industrial partners are able to realize in such a short time."
The booth was very well attended which underlines LOPEC as a suitable platform for presenting this innovative project. Furthermore, as members of the OEA (Organic and Printed Electronics Association), the Bonding Engineers seized the opportunity for direct exchange with other members and visitors. Peter Harendt, Head of Application Engineering, emphasized: "LOPEC has evolved into the most important fair for printed electronics. A few years ago, LOPEC was mainly meant for a small circle of experts, today it is the international meeting point for all sectors of printed electronics within the entire value chain. Lohmann mustn't miss out." His colleague Gabriele Nau, Senior Market Manager for Consumer Goods & Electronics, adds: "The great interest in our joint project has shown how important such a consortium project and the possibility of presenting ourselves at LOPEC both are. It displays technological innovation bringing together companies from various industries and thus potential for further applications.