Schools out: Lohmann trainees celebrate successful end of apprenticeship
In times of the corona pandemic, the farewell ceremony for nine trainees in the fields of machine and plant operator, industrial clerk and chemical laboratory assistant as well as a business economist VWA at Lohmann was also a little different than usual: In a small ceremony, the young ladies and gentlemen were honored for their successful examinations and degrees.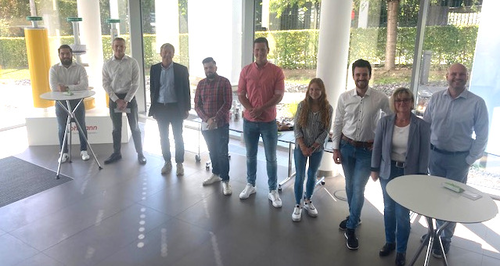 Head of training Sabine Dunkel pointed out the lasting professional commitment of the freshly graduated, as seven of them are aiming to continue their professional career at Lohmann. "Young people need a plan at the beginning of their professional life, because careers don't just happen. In many cases, they need to stay on the ball and formulate clear goals for themselves. Because every young person can offer added value for the company. The basis for a personally enriching professional career would have been laid by everyone with their graduation - whether as successful trainees or former students. Johannes Seibel, VWA business economist, also agreed with this. After successfully completing his apprenticeship at Lohmann last year, he had taken up studies in business administration and now graduated with the top mark of "very good".
Das Ausbildungskonzept von Lohmann bot dem beruflichen Nachwuchs unter anderem die Möglichkeit, an konkreten Projekten zu lernen, was bei allen Beteiligten sehr gut ankam.
Among other things, Lohmann's training concept offered young professionals the opportunity to learn on concrete projects, which was very well received by all those involved.
Training has a long tradition at Lohmann. The company has been training apprentices for decades and offers first-class job opportunities in industrial and commercial fields. Lohmann trainees are often among the best of their year.
Today the Lohmann Group is represented at 29 international locations with over 1,800 employees. Lohmann bonding solutions can be found in almost all branches of industry - from automotive engineering to consumer goods, construction, printing and electronics, mobile communication and medical technology.
IThus, young people find themselves in a diversified environment that offers them many opportunities for development. As part of the "all-round training" program, employees are also given appropriate training and further training internationally.