Ready for take-off: Lohmann's FLEXperts attend the 2019's annual EFIA Print Awards
On March 28, the annual EFIA Print Awards were presented during a festive gala dinner in the Concorde Conference Center at Manchester Airport.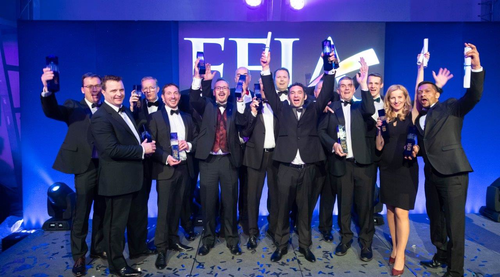 Underneath the wings of a supersonic jet, Lohmann's FLEXperts got ready for "take-off": They proudly witnessed their customers winning as many as 17 awards, including four gold ones
Ensuring best print results for their customers is at the heart of the FLEXperts' work. With Lohmann's plate mounting tapes of the DuploFLEX® range, not only are printing plates adjusted on the sleeves and serve as compressible bases – they also are co-responsible for the optimum printing quality.
For the EFIA Awards, this quality is judged by a panel made up of annually selected experts from the whole flexographic industry –printers, suppliers, brand owners and retailers. They pick winners in six print categories: flexo print on paper, flexo surface print on film, flexo reverse print on film, corrugated post print, post print on folder gluer and overseas entries. These package and label prints are further divided into narrow, medium and wide web / super wide web. The corrugated post prints as well as the post prints on folder gluers are differentiated into coated and uncoated. A "best in show" section honors the best among all the gold winners of the print categories. Lohmann user Coveris Spalding won the silver award in this category. In the two categories print on paper (narrow web) and surface print on film (wide web), Lohmann customers Coveris Label, Reflex Label and Interflex Sunderland managed a clean sweep, winning all of the three possible medals.
Founded in 1972, the EFIA (European Flexographic Industry Association) has been actively promoting the flexo industry by communicating advancements, providing training, education and technical knowledge. Lohmann's FLEXpert Robert Drew has been an EFIA board member since 2012 and strongly emphasizes the importance of the associations work: "Flexo has continued to develop and improve in both performance and quality, getting more and more recognition in the packaging market. Education and training as provided by EFIA offers fundamental stepping stones for the continued development of the flexo industry and its employees. Lohmann continues to work closely together with our partners in the industry to support this continuing advancement."
Please get in touch with our FLEXperts via our microsite: https://flexperts.lohmann-tapes.com/en
Are you "Bonded" yet? Follow the link below to register for our newsletter: https://www.lohmann-tapes.com/en/anmeldung-zum-newsletter__1196/